about the company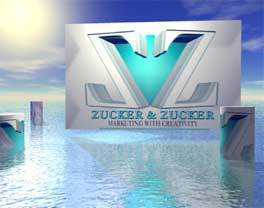 Zucker & Zucker's office is located in Dunedin, Florida, the Tampa-Clearwater area. Although we are located in Dunedin, Fl, we service clients all over the country.
Our business was originally created as a father and son team. Each of us has differently unique talents.
John (the father) has a very strong background in marketing with over a quarter of a century of experience in project development, creative and technical writing and production in all media.

Dan (the son) possesses an artistic and computer oriented background with design and layout . He has years of web design, freehand art, graphic art and programming in several languages. Dan currently sits on the Dunedin Chamber of Commerce Board of Directors, President of Visit Dunedin, Inc , and was the Chairman of the Board for 2011 for the Chamber of Commerce. Dan loves boating and fishing in Tampa Bay waters.
Together we create a two generation span of creativity and knowledge that works for the clients to cover the widest market of old world and new. This combination develops a strong and cutting edge team to meet all your creative and marketing needs.
Our clients vary from the Fortune 500 companies to the small business owners. No business is too large or too small for us to meet your needs.
Call or contact us today for a free quote!
Zucker and; Zucker Creative Marketing, Advertising , Web Site Design Dunedin, Web design Clearwater Website Design Tampa, Orlando, Fl Florida. We specialize in affordable graphic design, advertising, web design and full service marketing/advertising nationally and regionally in Dunedin Fl, Clearwater, Fl, Tampa Fl, Palm Harbor Florida, Tarpon Springs Florida and Oldsmar, Fl.
Tags: website design, website development, custom applications, SEO, optimization, logo design